Please Support Our Third Annual Shoe Drive for Street Help
Please Support Our Third Annual Shoe Drive for Street Help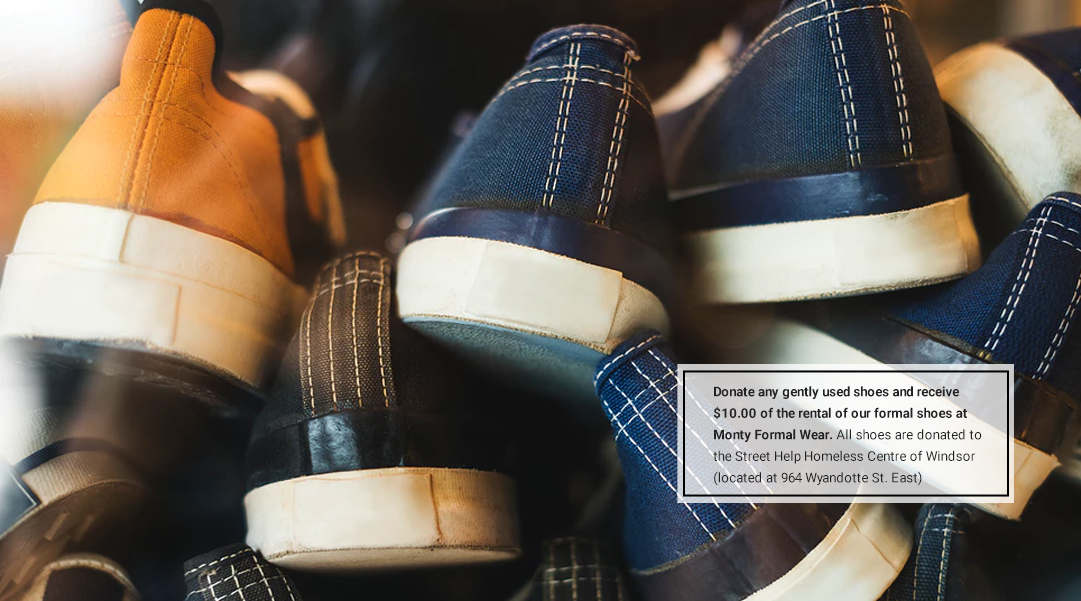 Shoe Drive 2020 is on now at Monty Formal Wear, and we are once again collecting lightly used shoes at our store for the Street Help Homeless Centre of Windsor, at 964 Wyandotte St. East. We are proud to collect shoes to help this outstanding organization, and we're asking for your help in making Shoe Drive 2019 a success.
As a bonus, when students donate a pair of lightly used shoes during Shoe Drive 2020, they will receive $10.00 off their rental of formal shoes at Monty Formal Wear. This is a great win/win promotion that both benefits the Street Help Homeless Centre, and lets students save money on shoes for prom, graduation, or any other occasion.
To donate your gently used shoes to Shoe Drive 2020, visit our store at 4451 Tecumseh Rd. E in Windsor. To get more information, call us today at 519-258-3522 or email us for more details.
Street Help has been serving the homeless community in Windsor for over seventeen years. They offer a variety of services to help the homeless in our area improve their lives, including providing them with food, clothing, emergency shelter, job search help and more. To learn more about the Street Help Homeless Centre of Windsor, click here.
---